Blood Crazy Series — Coming Sept 2023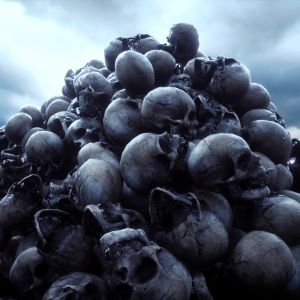 Simon Clark — praised by THE WASHINGTON POST as an exponent of the 'inventive' and the 'fast-moving'.
We are pleased to announce that acclaimed horror author Simon Clark has signed a three-book deal with Darkness Visible Publishing, inaugurating the BLOOD CRAZY SERIES.
The first book will be a republication of the popular and bestselling post-apocalyptic novel Blood Crazy, originally published by Hodder and Stoughton in 1995. It tells the story of nineteen-year-old Nick Aten, caught up in a maelstrom when, for no discernible reason, the entire adult population becomes murderously unhinged and feral. And every adult is driven to ferociously annihilate any and every young person below the age of twenty. Living on his wits, Nick teams up with others fleeing the chaos. Communities of the young develop to resist the crazed adults, who are nicknamed the Creosotes or the Kaybees.
Blood Crazy was very popular and highly praised within the horror community on its initial release, and it has gone on to develop a cult following.
'I actually loved Blood Crazy. Not just liked it but loved it.' — Mark Morris, writing in Beyond.
'Blood Crazy is a seminal work that transcends genre and provides an original, fresh, and chilling take on the post-apocalyptic theme. A compulsive page-turner and required reading. One of my all-time favourites!' — Brian Keene (bestselling author)
'I'm a massive fan of apocalyptic novels, and Blood Crazy is one of my absolute favourites. Uncompromising, shocking, and surprising, it'll stay with you for a long, long time.' — Tim Lebbon (bestselling author)
'A book ahead of its time. Pre-dating 28 Days Later, Stephen King's Cell and countless others, Clark gleefully charts the fall and rise of mankind through the eyes of a 19-year-old outcast. Startling scenes of horror and surprisingly deep ideas and revelations run through the core of this tremendously entertaining book.' — David Moody (bestselling author)
'Simon Clark has been a vibrant stalwart of the British horror scene for the best part of 25 years. His work is, nevertheless, consistently fresh, urgent and powerful, informed by a broad knowledge of and affection for the classic genre touchstones.' — Conrad Williams (bestselling author)
Blood Crazy will be republished in paperback and Kindle on 12th September 2023 — but this is only the start of the renaissance. It will be closely followed by Books Two and Three of the series, continuing the saga into new realms, with previously unseen characters. As bonus material, Blood Crazy will include the first two chapters of Book Two, setting the scene.
Book Two: Blood Crazy: Aten in Absentia, features Jack Ranzic, who returns to the village where he lives to discover that it has been attacked by Creosotes. His teenage friends lie dead on snow-covered fields. Jack discovers that his best friend, Gorron, has survived the carnage yet is suffering from a mystery illness. Jack must somehow carry Gorron to safety. But the adults are fast, and they are eager to kill… Jack will soon encounter an individual that Nick Aten knew well and who will join him on this savage journey. And there is another shadowy figure looking for Jack — an extraordinary survivor from his childhood past.
Book Three: Blood Crazy: Aten Present. Nick Aten is back. He meets a group of fellow survivors, and they prepare to return to his settlement. But what happens next changes everything. Nick finds himself on a ship with new friends – and old enemies. To avoid being overrun by Creosotes, Nick cuts the mooring lines and the ship drifts downstream, through a shattered land that is now the domain of human bones. Cities lie in ruin. Once again, murderous adults are closing in. They are changing. And this time they just might be more dangerous than he could have ever believed. Then again, not every young person is automatically an ally. And, this time, Tug Slatter is as mad as hell.
Blood Crazy: Aten in Absentia will be published towards the end of 2023, and Blood Crazy: Aten Present will follow early in 2024. Both novels will be available in paperback and Kindle.
GET THIS MESSAGE INTO YOUR HEAD.
YOU, TOO, HAVE A MONSTER TO KILL.
NO, MY FRIEND. WE'RE NOT OUT OF THE WOODS YET.